PDF Cutter is a free PDF document splitting software, it can help you to quickly split PDF files. Software supports three splitting methods, you can choose according to your requirements, simple and easy to use.
Software license is a Freeware, free for personal and non-commercial use.
Primary download mirror
Sometimes, some PDF files will be very large and you only need a part of it, such as only need a page or several pages, you can make use of this small PDF splitter, just with a few mouse clicks, you easily cut your PDF documents and clip it into several smaller files, more easier to use, share or store.
Usage: press "Open" button to select a PDF file, and select a split option, then hit "Cut" button. Sometime, because some PDF documents are huge or have many pages, the conversion will require a little longer time, in this process, you can use "Stop" button to terminate the cutting process.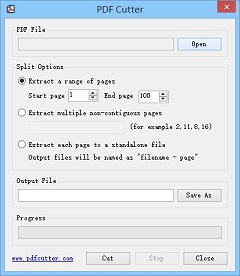 Supported Split Options:
1. Extract a range of pages:
You can set a Start page and an End page, software will cut all pages in this range.

2. Extract multiple non-contiguous pages:
You can cut any pages as you want, list by page number, separated by commas (for example 2,11,8,16).

3. Extract each page to a standalone file:
If you select this option, you need input an output folder, all output files will be named as "filename - page".